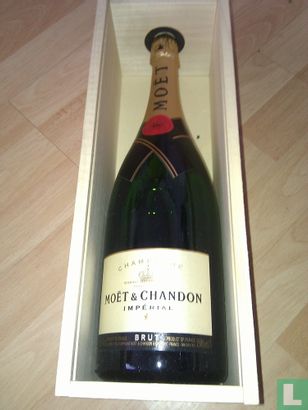 Enlarge image

None for sale yetYou can place this item in your wish list. You will be notified immediately when it is offered for sale.

Add to my wish list
Catalogue information
Title
Brut Imperial Magnum
Details
Taste: fruity, direct and challenging. Moët & Chandon's fame is based on the consistent and specific style of the champagne house. The brand awareness is immense and the style of the house can be captured in one word, namely COMPLETE. This is due to the good cohesion, fine balance and De Brut Impérial is composed of some 150 different wines, extracted from chardonnay, pinot noir and pinot meunier and from all parts of Champagne. It is a champagne without a vintage, because the blend also contains an important part of vins de réserve - beautifully matured wines from older years. Brut Impérial refers to the pleasantly dry taste (Brut) and the long-term preference of Emperor Napoléon for the champagne of Moët & Chandon (Impérial). The most sold and best known champagne worldwide.
This text has been translated automatically from Dutch
Click here for the original text
Smaak: fruitig, direct en uitdagend. Moët & Chandon's faam is gebaseerd op de consistente en specifieke stijl van het champagnehuis. De naamsbekendheid is immense groot en stijl van het huis is in één woord te vangen, namelijk COMPLEET. Dit komt door de goede samenhang, fijne balans en De Brut Impérial is gecomponeerd uit zo'n 150 verschillende wijnen, gewonnen uit chardonnay, pinot noir en pinot meunier en afkomstig uit alle delen van Champagne. Het is een champagne zonder oogstjaar, want in de assemblage zit tevens een belangrijk deel vins de réserve – mooi gerijpte wijnen uit oudere jaren. Brut Impérial refereert aan de prettig droge smaak (Brut) en aan de langdurige voorkeur van keizer Napoléon voor de champagne van Moët & Chandon (Impérial). Wereldwijd de meest verkochte en best gekende champagne.
Submission date
January 28, 2012 03:52
Last updated on
January 28, 2012 03:52