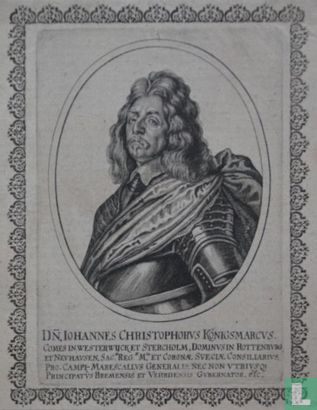 Enlarge image
DN. IOHANNES CHRISTOPHORUS KÖNIGSMARCUS.

None for sale yetYou can place this item in your wish list. You will be notified immediately when it is offered for sale.

Add to my wish list
Catalogue information
Title
DN. IOHANNES CHRISTOPHORUS KÖNIGSMARCUS.
Details
Portrait bust to the left in oval by Hans Christoph von Königsmarck (1600-1663). Von Königsmarck was a Swedish field marshal of German descent and was the progenitor of the Swedish branch of the Königsmarck family. He fought in the Thirty Years' War and was appointed Governor General of Bremen-Verden after the Peace of Westphalia. In 1655 he became a field marshal and incorporated into the Swedish nobility as Count of Västervik. In the beginning of the Second Northern War he was taken prisoner by the Poles. He was not released until 1660 after the signing of the Treaty of Oliva. After his imprisonment he returned to Sweden, where he died in 1663. Copper engraving, maker unknown. Made around 1660, presumably as an illustration in a book.
This text has been translated automatically from Dutch
Click here for the original text
Portretbuste naar links in ovaal van Hans Christoph von Königsmarck (1600-1663). Von Königsmarck was een Zweeds veldmaarschalk van Duitse afkomst en was de stamvader van de Zweedse tak van de familie Königsmarck. Hij vocht mee in de 30-Jarige Oorlog en werd na de Vrede van Westfalen benoemd tot gouverneur-generaal van Bremen-Verden. In 1655 werd hij veldmaarschalk en opgenomen in de Zweedse adel als graaf van Västervik. In het begin van de Tweede Noordse Oorlog werd hij gevangengenomen door de Polen. Hij werd pas in 1660 na het ondertekenen van het verdrag van Oliva vrijgelaten. Na zijn gevangenschap keerde hij terug naar Zweden, waar hij in 1663 overleed. Kopergravure, maker onbekend. Vervaardigd ca. 1660, vermoedelijk als illustratie in een boek.
Submission date
February 18, 2015 20:01
Last updated on
February 18, 2015 20:01