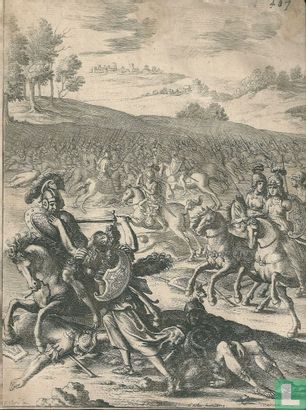 Enlarge image

Catalogue information
Title
De veldslag met ruiters
Details
Etching by Wenzel Hollar (1607-1677) after Francis Cleyn (ca.1582-1658) with a classic depiction of a battle with horsemen. In the foreground, a rider is killed by a man on foot. Numbered 487 at the top. Made in 1653. Signed and dated at the bottom in print.
This text has been translated automatically from Dutch
Click here for the original text
Ets door Wenzel Hollar (1607-1677) naar Francis Cleyn (ca. 1582-1658) met klassieke voorstelling van een veldslag met ruiters. Op de voorgrond wordt een ruiter gedood door een man te voet. Genummerd bovenaan 487. Vervaardigd in 1653. Gesigneerd en gedateerd onderaan in druk.