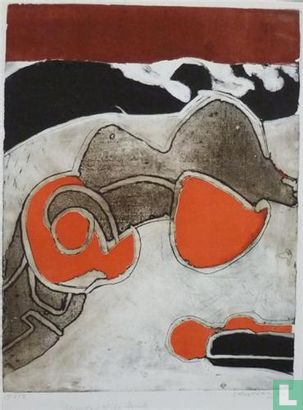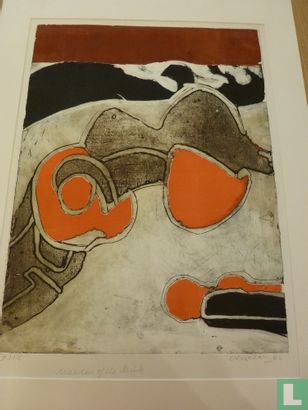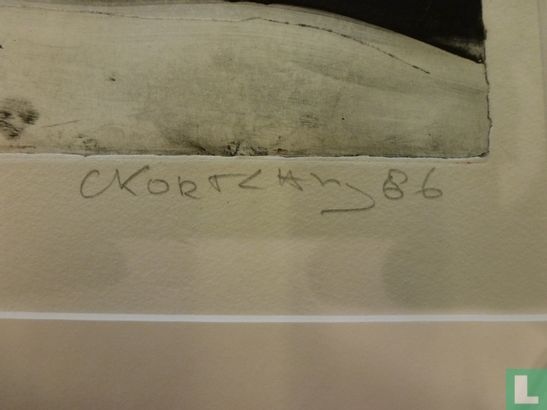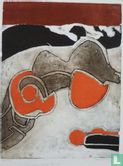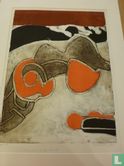 Enlarge image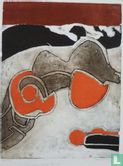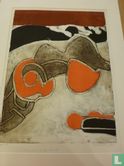 Catalogue information
Title
Meadow of the Saints
Details
Most of Kortlang's work consists of paintings, etchings and gouaches, but he also made lithographs, ink drawings and collages. Characteristic of his oeuvre are his 950 unique etchings, which he made by processing the etching plate himself. So he not only draws on the plates, but also cuts and combines them. In addition, it varies with the biting time of the acid. The etchings from his early years are mainly black, but Kortlang has been experimenting with color since 1966. Since the 1980s, he has also been overlaying many different etchings in various combinations. His works from the 90s are characterized by the pink and light blue contours that outline the shapes. This gives the creations a picturesque character.
This text has been translated automatically from Dutch
Click here for the original text
Het gros van het werk van Kortlang bestaat uit schilderijen, etsen en gouaches, maar heeft hij ook litho's, inkttekeningen en collages gemaakt. Kenmerkend voor zijn oeuvre, zijn zijn 950 unieke etsen, die hij heeft vervaardigd door de etsplaat zelf te bewerken. Hij tekent dus niet alleen op de platen, maar hij snijdt ze ook in stukken en combineert deze. Daarnaast varieert hij met de bijtingstijd van het zuur. De etsen uit zijn beginjaren zijn voornamelijk zwart, maar sinds 1966 is Kortlang met kleur gaan experimenteren. Ook drukt hij, sinds de jaren '80, veel verschillende etsen in verscheidene combinaties over elkaar. Zijn werken uit de jaren '90 kenmerken zich door de roze en lichtblauwe contouren die de vormen omlijnen. De creaties hebben hierdoor een schilderachtig karakter.