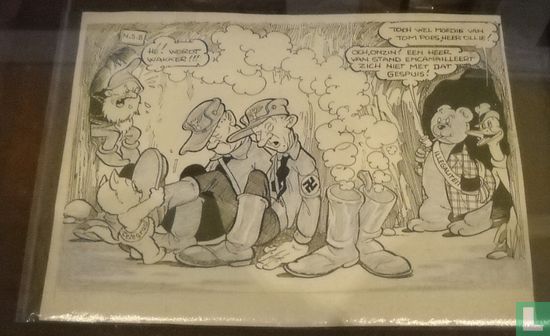 Enlarge image

Catalogue information
Details
Print that Marten Toonder made himself and in which he depicted the hidden message in his first Tom Poes story from 4 years earlier (1941) in an unorthodox way. A unique drawing that was only discovered in 2013 and hid from oblivion after having been in a folder in The Hague for many decades.
This text has been translated automatically from Dutch
Click here for the original text
Prent die Marten Toonder zélf maakte en waarin hij de verborgen boodschap in zijn eerste Tom Poes verhaal van 4 jaar eerder (1941) op onorthodoxe wijze verbeeldde. Een unieke tekening die pas in 2013 werd ontdekt en aan de vergetelheid onttrokken na vele decennia in een mapje in Den Haag te hebben gelegen.
References to other categories
Comic Books / Series / protagonists