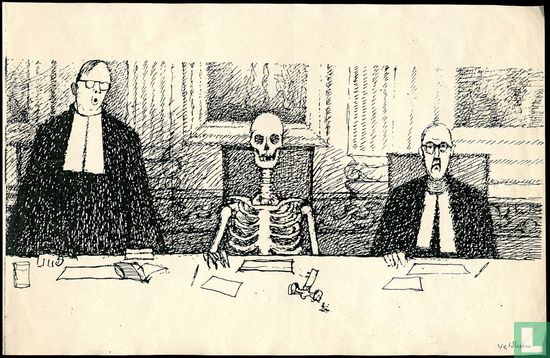 Enlarge image

None for sale yetYou can place this item in your wish list. You will be notified immediately when it is offered for sale.

Add to my wish list
Catalogue information
Category
Prints / graphics
Details
Aat Veldhoen (Amsterdam, November 1, 1934) is a Dutch painter. Veldhoen grew up in Amsterdam and learned the tricks of the trade as an artist from his father, who was first an advertising painter and later a painter. Veldhoen started his career as a draftsman but soon established his name as a free artist. His love for drawing is clearly reflected in his work: detailed drawings and paintings of dune landscapes, self-portraits, but especially naked women and making love are part of his oeuvre. He learned a lot as an intern at the Binnengasthuis, where he drew patients and operations. He bought his first etching press from the royal grant for free painting that he received three years in a row. With this he wanted to fulfill his ideology to make art for the people, folk graphics had to become the works made. He started drawing directly on offset plates, to then print the "rotaprints". On a cargo bike with his prints in it, he drove through Amsterdam between 1964 and 1967 where he sold the graphics. The cargo bike was inaugurated by Simon Carmiggelt. On the occasion of Veldhoen's seventieth birthday (2004), the Rembrandt House Museum exhibited a large collection of his work as a free artist and draftsman. These works were exhibited for the first time in a gallery in Animaux gallery Rotterdam from 26 March 2006. For this occasion, a silkscreen was made of the work 'In Love', a self-portrait of Veldhoen with his old love Cristi Kluivers, which he gave to his new love and wife Hedy d'Ancona. The artist David Veldhoen is his son. This is a (famous) rotaprint, directly from the artist at the time.
This text has been translated automatically from Dutch
Click here for the original text
Aat Veldhoen (Amsterdam, 1 november 1934) is een Nederlands kunstschilder. Veldhoen groeide op in Amsterdam en leerde de fijne kneepjes van het vak als kunstenaar van zijn vader, die eerst reclameschilder was, en later kunstschilder. Veldhoen begon zijn carrière als tekenaar maar al snel vestigde hij zijn naam als vrij kunstenaar. Zijn voorliefde voor tekenen zie je duidelijk terug in zijn werk: gedetailleerde tekeningen en schilderijen van duinlandschappen, zelfportretten maar vooral naakte vrouwen en vrijende stellen behoren tot zijn oeuvre. Hij leerde veel als stagiair in het Binnengasthuis, waar hij patiënten en operaties tekende. Van de koninklijke subsidie voor vrije schilderkunst die hij drie jaar op rij ontving kocht hij zijn eerste etspers. Hiermee wilde hij zijn ideologie vervullen om kunst voor het volk te maken, volksgrafiek moesten de gemaakte werken worden. Hij begon rechtstreeks op offsetplaten te tekenen, om de "rotaprints" daarna te drukken.Op een bakfiets met daarin zijn prenten reed hij zo ongeveer tussen 1964 en 1967 door Amsterdam waar hij de grafiek verkocht. De bakfiets werd ten doop gehouden door Simon Carmiggelt. Ter gelegenheid van Veldhoens zeventigste verjaardag (2004) exposeerde Museum het Rembrandthuis een grote verzameling van zijn werk als vrij kunstenaar en tekenaar. Deze werken werden vanaf 26 maart 2006 in Animaux galerie Rotterdam voor het eerst in een galerie geëxposeerd. Voor deze gelegenheid werd een zeefdruk gemaakt van het werk 'Verliefd', een zelfportret van Veldhoen met zijn oude liefde Cristi Kluivers dat hij cadeau deed aan zijn nieuwe liefde en echtgenote Hedy d'Ancona. De kunstenaar David Veldhoen is zijn zoon. Dit is een (beroemde) rotaprint, indertijd rechtstreeks afkomstig van de kunstenaar.
Submission date
July 25, 2013 22:06
Last updated on
November 04, 2013 07:59