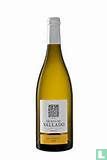 Enlarge image

Catalogue information
Title
Quinta Do Vallado, 2010
Details
Reserva Branco wine Producer Quinta do Vallado Website http://www.quintadovallado.com/ Origin Duoro, Portugal Classification Bottom Grape variety Rabigato, Gouveio, Arinto and Viosinho. Vinification Fermented in 500 liter barrels of French oak from different forests: Allier, Vosges and Nevers. 70% in new barrels, and the rest in one year old barrels. Serving temperature Taste description Mineral notes in the nose, well integrated with oak. Excellent acidity, good complexity and with a long finish. Characteristics Wine-food suggestion This wine is recommended for snacks. Producer information In the heart of Portugal's most famous wine region - the Douro Valley - Quinta do Vallado has 38 hectares of vineyards of which 26 hectares are planted with vines of 60 years and older. Wine has been made there since 1716 and the Quinta once belonged to the famous Portuguese winemakers family Feirrera. The current owners are Joao Ferreira Alvares and Francisco Ferreira. They make remarkable red and white wines that can be counted among the best in the region.
This text has been translated automatically from Dutch
Click here for the original text
Wijn Reserva Branco Producent Quinta do Vallado Website http://www.quintadovallado.com/ Herkomst Duoro, Portugal Classificatie Bodem Druivenras Rabigato, Gouveio, Arinto en Viosinho. Vinificatie Gefermenteerd in 500 liter vaten van Frans eiken uit verschillende bossen: Allier, Vogezen en Nevers. 70% in nieuwe vaten, en de rest in een jaar oud vaten. Serveertemperatuur Smaakomschrijving Minerale tonen in neus, goed geïntegreerd met eiken. Een uitstekende zuurgraad, goede complexiteit en met een lange afdronk. Kenmerken Wijn-spijs suggestie Deze wijn wordt aanbevolen voor de hapjes. Informatie producent In het hart van Portugals meest beroemde wijnregio - de Douro Valley - ligt Quinta do Vallado met 38 hectare aan wijngaarden waarvan 26 hectare beplant is met stokken van 60 jaar en ouder. Men maakt er al wijn sinds 1716 en de Quinta behoorde ooit toe aan de beroemde Portugese wijnmakersfamilie Feirrera. De huidige eigenaren zijn Joao Ferreira Alvares en Francisco Ferreira. Zij maken opmerkelijke rode en witte wijnen die gerekend mogen worden tot de beste van de streek.