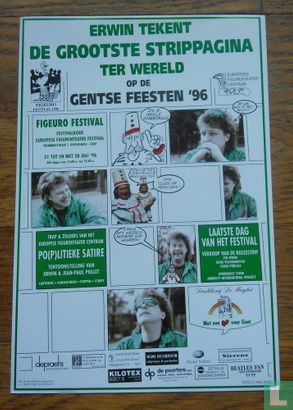 Enlarge image
Erwin tekent de grootste pagina ter wereld op de Gentse feesten '96

Catalogue information
Title
Erwin tekent de grootste pagina ter wereld op de Gentse feesten '96
Details
In 1996 Erwin De Bie drew the comics page "Pierke's figure-rich journey" on behalf of the European figure theater center at the Ghent parties in the format 6 x 4.5 meters, which at that time made "The largest single-handedly drawn comics page in the world". This is an advertising brochure for this event.
This text has been translated automatically from Dutch
Click here for the original text
In 1996 tekende Erwin De Bie, de strippagina "De figuurrijke reis van Pierke" in opdracht van het Europees figurenteatercentrum op de Gentse feesten op het formaat 6 x 4,5 meter waardoor op dat moment "De grootste eigenhandig getekende strippagina ter wereld". Dit is een reclamefolder voor dit gebeuren.