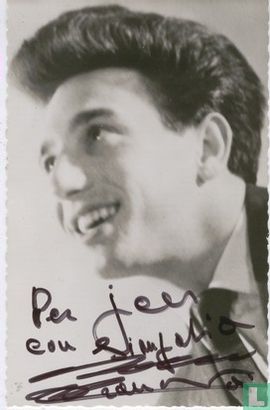 Enlarge image

Catalogue information
Details
Italian / Belgian singer, born on August 16, 1938 in Figline Vegliaturo (Calibria). He came to Belgium at the age of 10. He sang and played the accordion. He formed a group "The International Quartet". They were allowed to record a picture "Manuela" with on the B-side "Marina". The latter became a world hit for Rocco Granata. Performances in major theaters followed. Rocco himself continued to release records in various languages, he founded a music publishing house, but remained primarily a singer.
This text has been translated automatically from Dutch
Click here for the original text
Italiaans/Belgisch zanger, geboren op 16 augustus 1938 te Figline Vegliaturo (Calibrië). Op 10-jarige leeftijd kwam hij naar België. Hij zong en bespeelde de accordeon. Hij vormde een groepje "The International Quartet". Ze mochten een plaatje opnemen "Manuela" met op de B-zijde "Marina". Dit laatste werd een wereldhit voor Rocco Granata. Er volgden optredens in grote theaters. Rocco zelf bleef platen uitbrengen in diverse talen, hij richtte een muziekuitgeverij op maar bleef in de eerste plaats zanger.