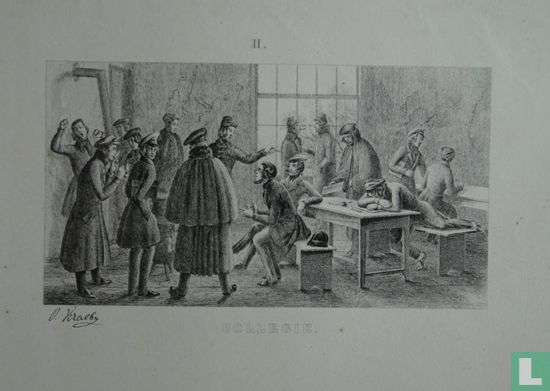 Enlarge image

Catalogue information
Details
View in a Leiden lecture hall in the 19th century. Cartoon. The students are busy with everything except studying. Steel engraving by O. Veralby (pseud. Alexander Ver Huell (1822-1897)). Intended as an illustration for: J. Kneppelhout (1814-1885). ,,Student life, by Klikspaan, with plates by O. Veralby. August 1841 - February 1844.'' Published in Leiden by HW Hazenberg & Comp. in 1844. Numbered in edition II. Klikspaan was the pseudonym of the Leiden student Johannes Kneppelhout (1814-1885) when he started writing about his fellow students. He divided his fellow students into twelve types and he did not describe them gently. So he considered himself someone who clicked about college life. He started with Student Types, followed in 1844 by Student Life. They were intended to warn students of the dangers threatening them. He describes students who get drunk, wreak havoc, go to the prostitutes, and ultimately don't finish their studies. The students loved it, especially because Klikspaan also described recognizable unpopular professors. Source: Literatuurhistorie.nl, 2015; Digital Library for Dutch Literature, 2015.
This text has been translated automatically from Dutch
Click here for the original text
Zicht in een Leidse collegezaal in de 19e eeuw. Spotprent. De studenten zijn met van alles bezig behalve studeren. Staalgravure door O. Veralby (pseud. Alexander Ver Huell (1822-1897)). Bestemd als illustratie voor: J. Kneppelhout (1814-1885). ,,Studentenleven, door Klikspaan, met platen van O. Veralby. Augustus 1841 - Februarij 1844.'' Uitgeven te Leiden door H.W. Hazenberg & Comp. in 1844. Genummerd in druk II. Klikspaan was het pseudoniem van de Leidse student Johannes Kneppelhout (1814-1885) toen hij ging schrijven over zijn medestudenten. Hij verdeelde zijn medestudenten in twaalf typen en hij beschreef ze bepaald niet zachtzinnig. Hij beschouwde zichzelf dus als iemand die klikte over het studentenleven. Hij begon met Studenten-typen, gevolgd in 1844 door Studentenleven. Ze waren bedoeld om studenten te waarschuwen voor de gevaren die hen bedreigen. Hij beschrijft studenten die dronken worden, vernielingen aanrichten, naar de hoeren lopen en ten slotte de studie dan ook niet afmaken. De studenten smulden ervan, met name omdat Klikspaan ook herkenbaar onpopulaire hoogleraren beschreef. Bron: Literatuurgeschiedenis.nl, 2015; Digitale Bibliotheek voor de Nederlandse Letteren, 2015.