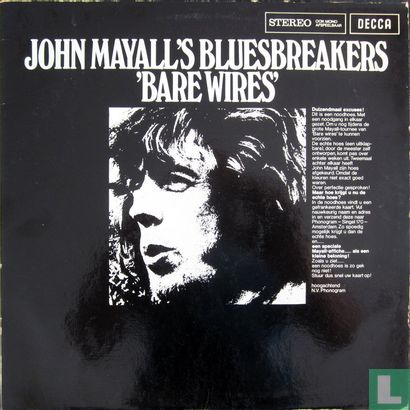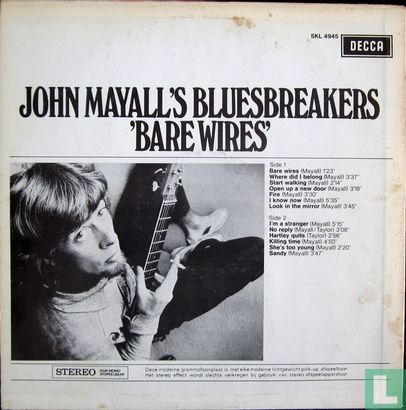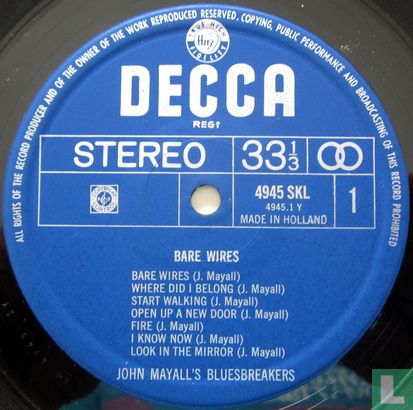 Enlarge image






Catalogue information
Area
Vinyl records and CDs
Cover design / Photographer
Details
At the time, this album was provided with a kind of emergency cover because John Mayall rejected the color of the real cover. In connection with the tour of Mayall, the Dutch fans became so a temporary cover was served and as soon as the real cover was ready it could still be claimed.
This text has been translated automatically from Dutch
Click here for the original text
Dit album werd destijds voorzien van een soort noodhoes omdat John Mayall de kleur van de echte hoes had afgekeurd. In verband met de tour van Mayall werden de Nederlandse fans dus een tijdelijke hoes voorgeschoteld en zodra de echte hoes klaar was kon die alsnog opgeëist worden.
A
Track
A 01: Bare Wires (1:23)
Track
A 02: Where Did I Belong (3:37)
Track
A 03: Start Walking (2:14)
Track
A 04: Open a New Door (3:18)