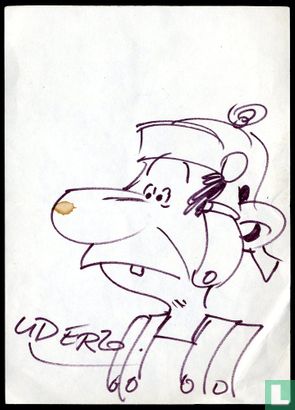 Enlarge image

Catalogue information
Title
Drawing Roman from Asterix
Details
When the well-known author of books about comics and comic journalist Rob van Eijk interviewed Albert Uderzo for comics information magazine Stripschrift in the early 1970s, Rob van Eijk spoke about his love for archeology and the Roman era. Uderzo therefore made this drawing of a Roman from the stories of Asterix and Obelix especially for Rob van Eijk. It is said to be the only time Uderzo has drawn a Roman for someone.
This text has been translated automatically from Dutch
Click here for the original text
Toen de bekende auteur van boeken over strips en stripjournalist Rob van Eijk begin 70er jaren Albert Uderzo voor stripinformatieblad Stripschrift interviewde vertelde Rob van Eijk zijn voorliefde voor archeologie en de romeinse tijd. Uderzo maakte daarom speciaal voor Rob van Eijk deze tekening van een romein uit de verhalen van Asterix en Obelix. Naar verluidt is het de enige keer dat Uderzo een romein voor iemand heeft getekend.