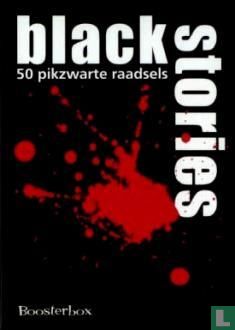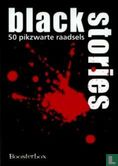 Enlarge image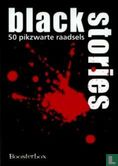 None for sale yetYou can place this item in your search list. You will be notified immediately when it is offered for sale.

Add to my search list
Catalogue information
Number of players
2 of meer
Details
50 black stories, 31 crimes, 49 corpses, 11 murders, 12 suicides and a deadly meal. How did all that happen? Black stories are dark, ingenious and terrifying riddle stories that you will have to solve! You can do this by asking questions to the game leader where he can then answer the question with 'yes' and 'no'. Sometimes you are on the right track with two or three questions, but often you get stuck in the seemingly easy stories. In Black Stories, one player takes on the role of gamemaster. This player reads the short scenario on one of the cards. Then the gamemaster on the other side of the map reads the complete story. Then it is up to the other players to find out the rest of the story. A wonderful guessing game that should not be missing at any party, and will get you hopelessly under its spell!
This text has been translated automatically from Dutch
Click here for the original text
50 black stories, 31 misdaden, 49 lijken, 11 moorden, 12 zelfmoorden en een dodelijke maaltijd. Hoe is dat allemaal gebeurd? Black stories zijn duistere, ingenieuze en schrikwekkende raadselverhalen welke jij zal moeten oplossen! Dit kun je doen door vragen te stellen aan de spelleider waar diegene vervolgens de vraag met 'ja' en 'nee' kan beantwoorden. Soms ben je met twee of drie vragen al op het goede spoor maar vaak bijt je je vast in de ogenschijnlijk makkelijke verhalen. In Black Stories neemt één speler de rol van spelleider op zich. Deze speler leest op een van de kaarten het beknopte scenario voor. Vervolgens leest de spelleider op de andere kant van de kaart het complete verhaal. Dan zijn de andere spelers aan zet om achter de rest van het verhaal te komen. Een heerlijk raadspel dat op geen enkel feest mag ontbreken, en je hopeloos in z'n ban krijgt!
Submission date
January 10, 2011 16:42
Last updated on
September 22, 2012 22:34