Heer Bommel gaat het overdoen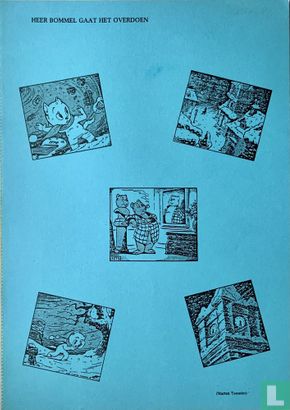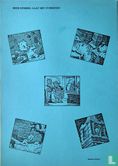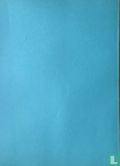 Enlarge image
Heer Bommel gaat het overdoen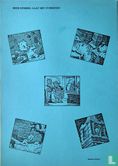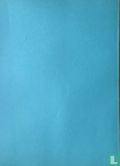 None for sale yetYou can place this item in your search list. You will be notified immediately when it is offered for sale.

Add to my search list
This item is on the wish list of 2 collectors. If you want to contact them, you can add this item to your shop. Users who are looking for this item will then automatically receive an e-mail notification about your offer (unless they have disabled the notification function). You can add this item to your shop using the form on the right.
Catalogue information
Title
Heer Bommel gaat het overdoen
Details
The story is about done things never change. Heer Bommel finds a calendar with which he can redo moments from the past year. The anesthesia he wants to prevent is only exacerbated by it. Yellow glued spine, blue light cardboard front and back cover, unpaged, printed on both sides. Episodes NRC: 3279 to 3334 16-12-1957 to 21-02-1958 Episode 3279 was rejected by the author in the 'Complete Works'. Reprint episodes NRC: 3280 to 3334 27-04-1988 to 01-07-1988. Episode 3279 of BV78 was not posted. Very minor text differences. This booklet has the format of the NRC story from 1988 (see "end of story" in the last episode) and is therefore "supplemented" with episode 3279. Based on the other books in this series, "1989" is plausible. (Weakly glued backs) This booklet includes the rejected issue 3279, see Figure 3.
This text has been translated automatically from Dutch
Click here for the original text
Het verhaal gaat er over dat gedane zaken geen keer nemen. Heer Bommel vindt een kalender, waarmee hij momenten uit het afgelopen jaar kan overdoen. De narcose die hij wil voorkomen, wordt er alleen maar door verergerd. Geel verlijmde rug, blauw lichtkartonnen voor- en achtercover, ongepagineerd, dubbelzijdig bedrukt. Afleveringen NRC: 3279 t/m 3334 16-12-1957 t/m 21-02-1958 Aflevering 3279 werd in de 'Volledige Werken' door de auteur verworpen. Herdruk afleveringen NRC: 3280 t/m 3334 27-04-1988 t/m 01-07-1988. Aflevering 3279 van BV78 werd niet geplaatst. Zeer geringe tekstverschillen. Dit boekje heeft de opmaak van het NRC verhaal uit 1988 (zie 'einde verhaal" in de laatste aflevering) en is dus 'aangevuld' met afl. 3279. Op basis van de andere boekjes in deze serie is '1989' aannemelijk. (Zwak verlijmde ruggen) Dit boekje is inclusief de verworpen aflevering 3279, zie afbeelding 3.
Submission date
February 22, 2021 11:12
Last updated on
February 22, 2021 11:32
Stories in this album
Story title
Heer Bommel gaat het overdoen