Original film cell & quot; If you know what I mean" - Tom Poes & Heer Bommel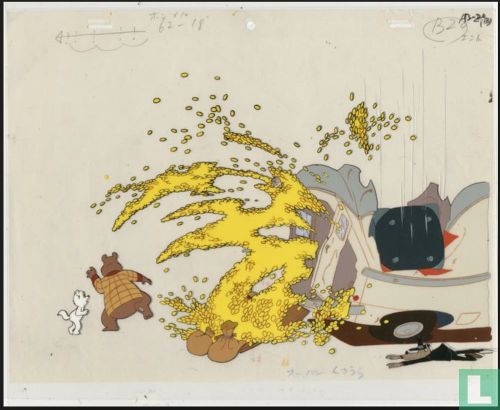 Enlarge image


None for sale yetYou can place this item in your search list. You will be notified immediately when it is offered for sale.

Add to my search list
Catalogue information
Category
Drawings / paintings
Title
Original film cell & quot; If you know what I mean" - Tom Poes & Heer Bommel
Details
Note: in the cell animation technique, the maker draws the moving parts of the animation on transparent sheets, or "cells". It takes 24 cells for one second of animation. The advantage is that fewer drawings are required, because the cells can be reused for the same movements. Cell animation was invented in the United States at the beginning of the 20th century. Thanks to Walt Disney, cartoons became a market product that had to be made quickly. To save time, this technique was devised, whereby moving parts and non-moving parts of the drawing are separated from each other. The animation is first drawn with pencil (line drawing) and then transferred to a clear transparent sheet (cell). Due to the transparency, several layers can be placed on top of each other. The line-out at the rear.
This text has been translated automatically from Dutch
Click here for the original text
Toelichting: bij de celanimatietechniek tekent de maker de bewegende delen van de animatie op transparante vellen, of "cels". Er zijn 24 cellen nodig voor één seconde animatie. Het voordeel is dat er minder tekeningen nodig zijn, omdat de cellen hergebruikt kunnen worden voor dezelfde bewegingen. Celanimatie is aan het begin van de 20e eeuw in de Verenigde Staten uitgevonden. Dankzij Walt Disney werden tekenfilms een marktproduct dat snel gemaakt moest worden. Om tijd te besparen is deze techniek bedacht, waarbij bewegende delen en niet-bewegende delen van de tekening van elkaar worden gescheiden. De animatie wordt eerst met potlood getekend (lijntekening) en vervolgens overgebracht op een helder transparant vel (cel). Door de transparantie kunnen meerdere lagen op elkaar worden geplaatst. De line-out aan de achterzijde.
Submission date
October 30, 2020 21:33
Last updated on
October 30, 2020 21:34
References to other categories