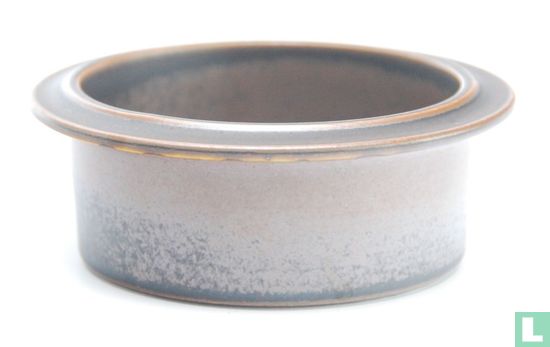 Enlarge image



None for sale yetYou can place this item in your search list. You will be notified immediately when it is offered for sale.

Add to my search list
Catalogue information
Title
Juskom - Ruska - Arabia
Dimensions
Doorsnee 13 cm.
Details
Ulrika Eleonora Matilda Procopé-Nyman Born Helsinki, November 17, 1921 Died Tenerife, December 21, 1968 Known as Ulla Procopé, was a Finnish ceramic designer. Career She studied at the University of Art and Graphic Design in Helsinki. In 1948 she joined the Arabia ceramic factory in Helsinki as a potter, but the work on the turntable undermined her health. That is why artistic director Kaj Franck brought her to the design department in 1951, where she started making new Arabia designs. She took care of both the design and the painting. At the 1957 Triennale in Milan, she shared a display case with Kaj Franck. Her entry, consisting of three pots with lids, a pan and a teapot with lid and brown ceramic handle, received an honorable certificate. Although Ulla Procopé modestly remained in the background as Finnish design made an international breakthrough, her great merit lies in devising solutions for mass production of pottery. Because she died relatively young, she was unable to take full advantage of the success of her work. She has a number of designs to her credit, which have made Arabia a famous and prestigious brand. The Spain-inspired Valencia porcelain service from 1960, the posthumously released brown stone service Ruska ("autumnal brown") in 1970 and the Mahonki service are typical examples of Finnish design, which was very popular in the second half of the twentieth century. and received classical status. Work by Ulla Procopé can be found in the Design Museum in Helsinki and the National Museum in Stockholm.
This text has been translated automatically from Dutch
Click here for the original text
Ulrika Eleonora Matilda Procopé-Nyman Geboren Helsinki, 17 november 1921 Overleden Tenerife, 21 december 1968 Bekend als Ulla Procopé, was een Finse keramisch ontwerper. Carrière Ze studeerde aan de Universiteit voor kunst en grafische vormgeving in Helsinki. In 1948 trad ze als pottenbakker in dienst van de keramische fabriek Arabia in Helsinki, maar het werk aan de draaischijf ondermijnde haar gezondheid. Daarom haalde artistiek directeur Kaj Franck haar in 1951 naar de designafdeling, waar ze nieuwe Arabia-ontwerpen ging maken. Ze verzorgde zowel de vormgeving als de beschildering. Op de Triennale 1957 in Milaan deelde ze een vitrine met Kaj Franck. Haar inzending, bestaande uit drie potten met deksel, een pan en een theepot met deksel en bruin keramisch handvat, kreeg een eervolle oorkonde. Hoewel Ulla Procopé bescheiden op de achtergrond bleef toen Fins design internationaal doorbrak, ligt haar grote verdienste in het bedenken van oplossingen voor de massaproductie van pottenbakkerij. Doordat ze relatief jong stierf, heeft ze niet ten volle kunnen profiteren van het succes van haar werk. Ze heeft een aantal ontwerpen op haar naam staan, die Arabia tot een beroemd en prestigieus merk hebben gemaakt. Het op Spanje geïnspireerde porseleinen servies Valencia uit 1960, het in 1970 postuum uitgebrachte, bruine stenen servies Ruska ("herfstig bruin") en het Mahonki-servies gelden als typische voorbeelden van het Finse design dat in de tweede helft van de twintigste eeuw zeer populair werd en een klassieke status kreeg. Werk van Ulla Procopé bevindt zich in onder meer het Designmuseum in Helsinki en het Nationalmuseum in Stockholm.
Submission date
July 10, 2018 12:17
Last updated on
July 10, 2018 12:17