Ice hockey Groningen : GIJS supportersvereniging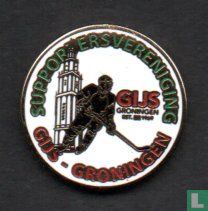 Enlarge image
None for sale yetYou can place this item in your search list. You will be notified immediately when it is offered for sale.

Add to my search list
Catalogue information
Title
Ice hockey Groningen : GIJS supportersvereniging
Details
In 2017, the supporters association of the Groninger Ice Hockey Foundation (G.IJ.S.) issued a new pin. This pin has two versions. One model with a white background and one model with a yellow background. GIJS. (Groninger Ice Hockey Foundation) was founded on December 23, 1969. In 1971 GIJS became champion in the 3rd division. In 1974 the club made its first appearance at the highest level. In 1978 and 1979 GIJS reached the final of the play-offs for the national title; was lost both times to the Heerenveen Flyers. The club made it to the play-offs again in 1984, but lost against the later national champions Nijmegen. In 1986 GIJS took the national title for the first time in its existence. Until 2020, GIJS became champion of the 2nd division (later called 1st division) seven times, in 1973, 1989, 2006, 2007, 2014, 2016 and 2018.. The Coupe der lowlands was won in 1989.
This text has been translated automatically from Dutch
Click here for the original text
In 2017 heeft de supportersvereniging van de Groninger IJshockey Stichting (G.IJ.S.) een nieuwe pin uitgegeven. Deze pin kent twee versies. Één model met een witte achtergrond en één model met een gele achtergrond. G.IJ.S. (Groninger IJshockey Stichting) werd opgericht op 23 december 1969. In 1971 werd GIJS kampioen in de 3e divisie. In 1974 maakte de club voor de eerste maal haar opwachting op het hoogste niveau. In 1978 en 1979 haalde GIJS de finale van de play-offs om de landstitel; beide malen werd verloren van de Heerenveen Flyers. De club haalde de play-offs opnieuw in1984, maar ging daarin onderuit tegen de latere landskampioen Nijmegen. In 1986 pakte GIJS voor de eerste maal in haar bestaan de landstitel. Tot 2020 werd GIJS zeven keer kampioen van de 2e divisie (later 1e divisie geheten), in 1973, 1989, 2006, 2007, 2014, 2016 en 2018. . De Coupe der lage landen werd in 1989 gewonnen.
Submission date
July 23, 2017 08:53
Last updated on
May 13, 2020 20:19