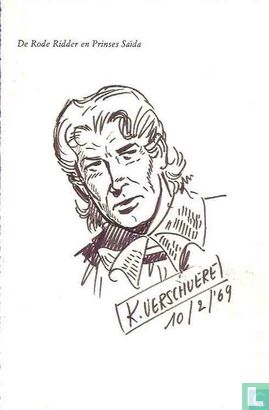 Enlarge image
[Zonder titel] (De Rode Ridder)

Catalogue information
Title
[Zonder titel] (De Rode Ridder)
Details
Drawing on the title page of the reading book "The red knight and princess Saïda". Signed by Karel Verschuere and dated February 10, 1969.
This text has been translated automatically from Dutch
Click here for the original text
Tekening op de titelpagina van het leesboek "De rode ridder en prinses Saïda". Gesigneerd door Karel Verschuere en gedateerd 10 februari 1969.
References to other categories