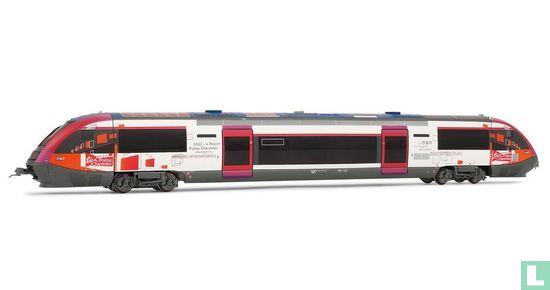 Enlarge image
Autorail SNCF série X 73500

None for sale yetYou can place this item in your wish list. You will be notified immediately when it is offered for sale.

Add to my wish list
Catalogue information
Area
Model trains / Railway modelling
Title
Autorail SNCF série X 73500
Stock number / road number
Details
Delivered: Poitou Charente region (photovoltaic). Characteristics: •"Made in China" relief inscriptions on the chassis, •cardan drive, •1 motor bogie, •2 tyred wheels, •"Jouef" relief inscriptions under the motor bogie, •reversible white/red lighting. •interior lighting, •burnished axles, •digital interface NEM 652, •detailed interior, •flywheel, •Scharfenberg coupling functional, •connection of couplings NEM 362. Prototype: the X73500 are modern diesel railcars circulating in France. Resulting from the XTER project, they are present in 20 of the 22 French regions, mainly ensuring the service of rural and peri-urban lines, in single or multiple units (up to three elements). The Luxembourg railways (CFL) have also acquired 6 of these railcars, later bought by the SNCF. A version equipped with specific safety equipment (X73900) circulates in cross-border service with Germany. This country also operates its own version of the XTER, the VT641, reproduced by Rivarossi.
This text has been translated automatically from French
Click here for the original text
Livrée: région Poitou Charente (photovoltaïque). Caractéristiques: •inscriptions en relief "Made in China" sur le châssis, •entraînement par cardan, •1 bogie moteur, •2 roues bandagés, •inscriptions en relief "Jouef" sous le bogie moteur, •éclairage blanc/rouge réversibles. •éclairage intérieur, •essieux brunis, •interface digitale NEM 652, •intérieur détaillé, •volant d'inertie, •Scharfenberg attelage fonctionnel, •prise d'attelages NEM 362. Prototype: les X73500 sont des autorails Diesel modernes circulant en France. Issus du projet XTER, ils sont présents dans 20 des 22 régions françaises, assurant principalement la desserte de lignes rurales et périurbaines, en unités simples ou multiples (jusqu'à trois éléments) .Les chemins de fer luxembourgeois (CFL) ont également acquis 6 de ces autorails, rachetés ensuite par la SNCF. Une version dotée d'équipements de sécurité spécifiques (X73900) circule en service transfrontalier avec l'Allemagne. Ce pays exploite d'autre part sa propre version du XTER, le VT641, reproduit par Rivarossi.
Submission date
July 17, 2015 17:57
Last updated on
August 30, 2022 19:21