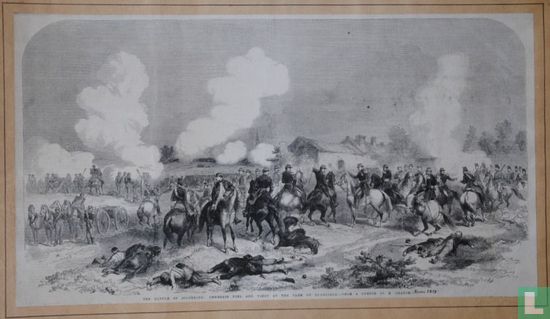 Enlarge image
THE BATTLE OF SOLFERINO: GENERALS NIEL AND VINOY AT THE FARM OF QUAGLIARI. - FROM A A SKETCH BY M BEAUCE. ANNO 1859

None for sale yetYou can place this item in your wish list. You will be notified immediately when it is offered for sale.

Add to my wish list
Catalogue information
Category
Prints / graphics
Title
THE BATTLE OF SOLFERINO: GENERALS NIEL AND VINOY AT THE FARM OF QUAGLIARI. - FROM A A SKETCH BY M BEAUCE. ANNO 1859
Details
View of the battle of Solferino. The alliance of the French army under Napoleon III and the Sardinian army under Victor Emmanuel II (collectively known as the Franco-Sardinian Alliance) overcame the Austrian army under the command of Emperor Francis Joseph I. More than 200,000 soldiers fought in this important battle, largest since the Battle of Leipzig in 1813. The Battle of Solferino was a decisive battle in the Second Italian War of Independence, a crucial step in the Italian Risorgimento, the unification of Italy. The geopolitical context for the war was Italy's nationalist struggle for unification, long split between France, Austria, Spain and the Papal State. The battle took place near the village of Solferino, which lies between Milan and Verona south of Lake Garda. Lithography. Maker unknown, after M. Beauce. Made around 1880.
This text has been translated automatically from Dutch
Click here for the original text
Zicht op de slag bij Solferino. De alliantie van het Franse leger onder Napoleon III en het Sardijnse leger onder Victor Emmanuel II (samen bekend als de Frans-Sardinische Alliantie) overwonnen het Oostenrijkse leger onder commando van keizer Frans Jozef I. Meer dan 200.000 soldaten vochten in deze belangrijke slag, de grootste sinds de Slag bij Leipzig uit 1813. De Slag bij Solferino was een beslissende slag in de Tweede Italiaanse Onafhankelijkheidsoorlog, een cruciale stap in het Italiaanse Risorgimento, de eenwording van Italië. De geopolitieke context voor de oorlog was de nationalistische strijd voor eenwording van Italië, lang verdeeld tussen Frankrijk, Oostenrijk, Spanje en de Pauselijke Staat. De veldslag vond plaats in de buurt van het dorp Solferino dat tussen Milaan en Verona ligt ten zuiden van het Gardameer. Steendruk. Maker onbekend, naar M. Beauce. Vervaardigd ca. 1880.
Submission date
July 07, 2015 21:36
Last updated on
July 07, 2015 21:36