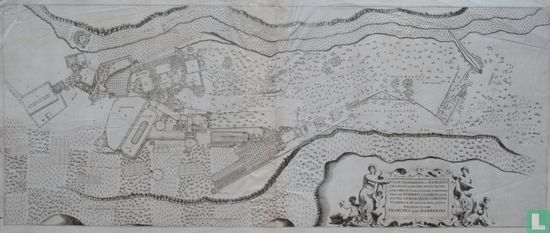 Enlarge image
VILLAE CELEBERRIMAE ab ADRIANO CAESARE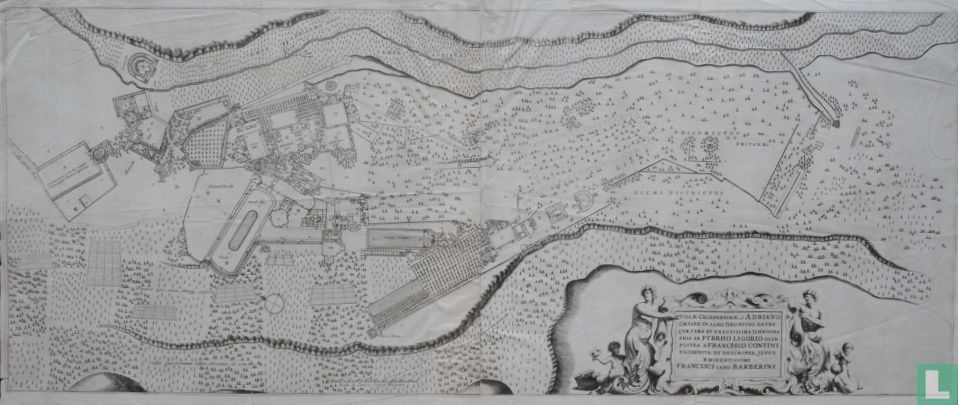 Catalogue information
Title
VILLAE CELEBERRIMAE ab ADRIANO CAESARE
Details
Floor plan of the extensive Villa Hadriana near Tivoli. Emperor Hadrian (76-138) had this complex built between 126 and 134. The estate, with a circumference of 5 km and an area of approximately 120 ha, included an imperial palace, thermal baths, libraries, theaters, a swimming pool, staff quarters, banquet halls, underground corridors, altars, a sports stadium, an art gallery and extensive gardens full of works of art. . There were even caves, animal enclosures, a wildlife park, a pond, squares with fountains, waterfalls, fish basins, and so on. It is considered one of the richest building complexes of Antiquity. Copper engraving, maker unknown. Intended as an illustration in a work by Athanasius Kircher (1602-1680), which was published in Amsterdam in 1671.
This text has been translated automatically from Dutch
Click here for the original text
Plattegrond van de uitgestrekte Villa Hadriana bij Tivoli. Keizer Hadrianus (76-138)liet tussen 126 en 134 dit complex aanleggen. Het landgoed, met een omtrek van 5 km en een oppervlakte van ongeveer 120 ha, omvatte een keizerlijk paleis, thermen, bibliotheken, theaters, een zwembad, personeelsvertrekken, banketzalen, ondergrondse gangen, altaren, een sportstadion, een kunstgalerij en uitgestrekte tuinen boordevol kunstwerken. Er waren zelfs grotten, dierenverblijven, een wildpark, een vijver, pleinen met fonteinen, watervallen, visbekkens, enzovoorts. Het geldt als een van de rijkste gebouwencomplexen uit de Oudheid. Kopergravure, maker onbekend. Bestemd als illustratie in een werk van Athanasius Kircher (1602-1680), wat in 1671 te Amsterdam is uitgegeven.