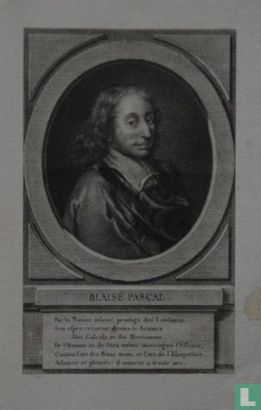 Enlarge image

Catalogue information
Details
Portrait bust to the right inside oval by Blaise Pascal (1623-1662). At the bottom to his name and 6-line poem in French. Pascal was a French mathematician and physicist, Christian philosopher, theologian and apologist. Pascal was a Catholic who also had a profound influence on Protestantism. Pascal laid the foundation for probability theory; the basis for the integral doctrine and gave meaning to the concept of infinity. He built one of the first mechanical calculators (addition and subtraction) (1642), the pascaline. He discovered Pascal's Law, named after him: The pressure exerted on a liquid propagates with the same magnitude in all directions. As a Christian thinker, Pascal is mainly seen as the apologist of revelation. He insists that reason must know its own limits and that it must bow to the reality given by God. Etching and engraving, maker unknown. Made around 1730.
This text has been translated automatically from Dutch
Click here for the original text
Portretbuste naar rechts binnen ovaal van Blaise Pascal (1623-1662). Onderaan op zijn naam en 6-regelig gedicht in het Frans. Pascal was een Franse wis- en natuurkundige, christelijk filosoof, theoloog en apologeet. Pascal was een katholiek die ook een grote invloed heeft gehad op het protestantisme. Pascal legde de grondslag voor de waarschijnlijkheidsrekening; de basis voor de integraalleer en gaf betekenis aan het begrip oneindigheid. Hij bouwde een van de eerste mechanische rekenmachines (optelling en aftrekking) (1642), de pascaline. Hij ontdekte de naar hem genoemde Wet van Pascal: De druk die op een vloeistof wordt uitgeoefend, plant zich in alle richtingen met dezelfde grootte voort. Als christelijk denker wordt Pascal vooral gezien als de apologeet van de openbaring. Hij stelt met klem dat de rede haar eigen grenzen moet kennen en dat zij moet buigen voor de door God gegeven werkelijkheid. Ets en gravure, maker onbekend. Vervaardigd ca. 1730.