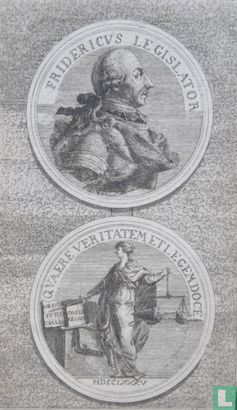 Enlarge image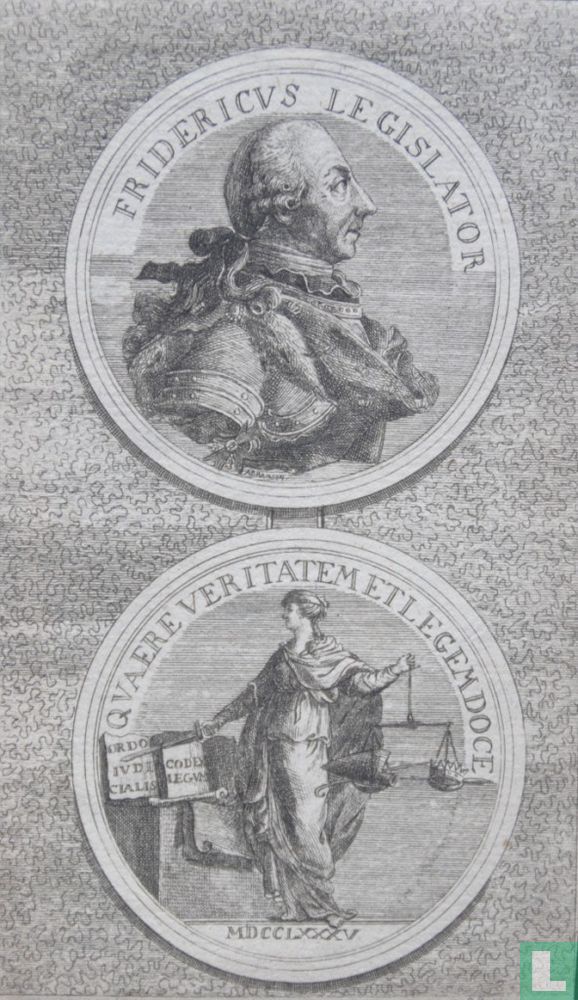 None for sale yetYou can place this item in your wish list. You will be notified immediately when it is offered for sale.

Add to my wish list
Catalogue information
Category
Prints / graphics
Title
FRIDERICUS LEGISLATOR
Details
Medal depicting a bust to the right of Frederick II the Great (1712-1786) and an allegorical representation on the reverse. Frederick II managed to transform Brandenburg-Prussia into a European great power. He waged wars against Austria and expanded his principality during the War of the Austrian Succession (1740-1748) with Silesia and with the county of East Frisia (1744). In the Seven Years' War (1756-1763) he attacked France, Russia, Bohemia and the Electorate of Saxony. By means of clever diplomacy he managed to obtain West Prussia by annexation in 1772. In 1778-1779 he was involved in the War of the Bavarian Succession to prevent Austria from taking part of Bavaria. In 1785 he founded the Royal League to counteract the plans of Joseph II. Frederik was a great military strategist who was admired by many later generations after his death, including Napoleon Bonaparte. Copper engraving by J.C. Darchow (? -?). Made in 1786. Signed and dated in print.
This text has been translated automatically from Dutch
Click here for the original text
Penning met voorstelling van een borstbeeld naar rechts van Frederik II de Grote (1712-1786) en op verso een allegorische voorstelling. Frederik II wist Brandenburg-Pruisen om te vormen tot een Europese grote mogendheid. Hij voerde oorlogen tegen Oostenrijk en breidde zijn vorstendom tijdens de Oostenrijkse Successieoorlog (1740-1748) uit met Silezië en met het graafschap Oost-Friesland (1744). In de Zevenjarige Oorlog (1756-1763) viel hij Frankrijk, Rusland, Bohemen en het Keurvorstendom Saksen aan. Door middel van handige diplomatie wist hij in 1772 door annexatie West-Pruisen te verkrijgen. In 1778-1779 was hij betrokken in de Beierse Successieoorlog om te voorkomen dat Oostenrijk een deel van Beieren in handen kreeg. In 1785 stichtte hij de Vorstenbond om een tegenwicht te bieden tegen de plannen van Jozef II. Frederik was een groot militair strateeg, die na zijn dood nog door vele latere generaties bewonderd werd, onder meer door Napoleon Bonaparte. Kopergravure door J.C. Darchow (?-?). Vervaardigd in 1786. Gesigneerd en gedateerd in druk.
Submission date
April 27, 2015 16:17
Last updated on
April 27, 2015 16:17