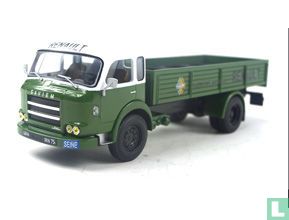 Enlarge image




Catalogue information
Title
Saviem JL 21 Flatbed
Production year of the model car
2015
Production year of the actual car
1972
Country of origin of the model
China
Details
France 1972 Board with drop sides. By launching its new JL range in 1959, the young Saviem brand, born four years earlier, seeks to acquire a medium tonnage carrier dedicated to distribution. The new model is in fact a clever cocktail using elements from Latil and Somua trucks, manufacturers already brought together by Saviem, and powered by the "Fulgur" diesel engine developed by Renault technicians. What establish the reputation of assembler attributed to the French firm ...
This text has been translated automatically from French
Click here for the original text
France 1972 Plateau à ridelles. En lançant en 1959 sa nouvelle gamme JL, la jeune marque Saviem, née quatre ans plus tôt, cherche à se doter d'un porteur moyen tonnage dédié à la distribution. Le nouveau modèle est en fait un savant cocktail reprenant des éléments de camions Latil et Somua, constructeurs déjà réunis par Saviem, et animé par le moteur Diesel « Fulgur » élaboré par les techniciens de Renault. De quoi asseoir la réputation d'assembleur attribuée à la firme française...