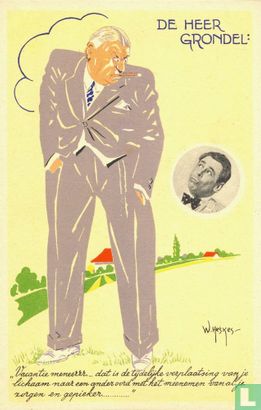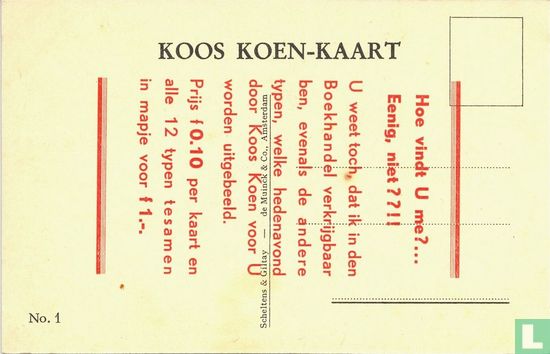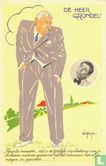 Enlarge image
01. De heer Grondel (met rode reclametekst op achterkant)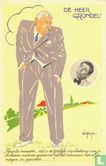 None for sale yetYou can place this item in your wish list. You will be notified immediately when it is offered for sale.

Add to my wish list
Catalogue information
Title
01. De heer Grondel (met rode reclametekst op achterkant)
Number on postcard
No. 1 (linksonder op achterkant)
General name of the publisher
Details
Year of issue based on postmark. Text on the front: Mr. Grondel: "Holiday misterrr .... that is the temporary movement of your body to another place with all your worries and worries ............" On the back of the card the text: How do you find me? ... Only, isn't it ?? !! You know that I am available in the bookshop, as well as the other types, which are portrayed for you this evening by Koos Koen. Price ƒ 0.10 per card and all 12 types together in folder for ƒ 1.-.
This text has been translated automatically from Dutch
Click here for the original text
Jaartal uitgifte gebaseerd op poststempel. Tekst op voorkant: De heer Grondel: "Vacantie meneerrr.... dat is de tijdelijke verplaatsing van je lichaam naar een ander oord met het meenemen van al je zorgen en gepieker............" Op de achterkant van de kaart de tekst: Hoe vindt u me?... Eenig, niet??!! U weet toch dat ik in den Boekhandel verkrijgbaar ben, evenals de andere typen, welke hedenavond door Koos Koen voor U worden uitgebeeld. Prijs ƒ 0.10 per kaart en alle 12 typen tesamen in mapje voor ƒ 1.-.
Submission date
April 09, 2015 17:09
Last updated on
September 04, 2021 09:26
References to other categories
Comic Books / Authors / artists