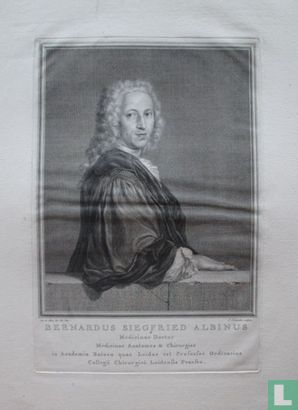 Enlarge image
BERNARDUS SIEGFRIED ALBINUS

None for sale yetYou can place this item in your wish list. You will be notified immediately when it is offered for sale.

Add to my wish list
Catalogue information
Title
BERNARDUS SIEGFRIED ALBINUS
Details
Half-length portrait to the right of Bernard Siegfried Albinus (1697-1770), his right arm leaning on a plinth. Below the portrait are name and title in three lines in Latin. Albinus was a German professor of anatomy. His original surname was Weiss, but it was changed to its Latin form, as was common in academia at the time. He studied and taught at, among others, the University of Leiden. He was a student of Boerhave. Albinus was also twice appointed rector of the university. He lived at 29 Rapenburg. Copper engraving and etching by Jacob Houbraken (1698-1780), after the painting by Carel Isaak de Moor (1695-1751). Made around 1740. Signed in print. Source: Rijksmuseum, 2015.
This text has been translated automatically from Dutch
Click here for the original text
Portret ten halven lijve naar rechts van Bernard Siegfried Albinus (1697-1770), zijn rechterarm leunend op een plint. Onder het portret zijn naam en titel in drie regels in het Latijn. Albinus was een Duitse professor in de anatomie. Zijn oorspronkelijke achternaam was Weiss, maar die werd veranderd in de Latijnse vorm ervan, zoals in die tijd gebruikelijk was in de academische wereld. Hij studeerde en doceerde onder meer aan de Universiteit van Leiden. Hij was een leerling van Boerhave. Albinus werd ook tweemaal tot rector benoemd van de universiteit. Hij woonde aan het Rapenburg 29. Kopergravure en ets door Jacob Houbraken (1698-1780), naar het schilderij van Carel Isaak de Moor (1695-1751). Vervaardigd ca. 1740. Gesigneerd in druk. Bron: Rijksmuseum, 2015.
Submission date
March 28, 2015 17:11
Last updated on
March 28, 2015 17:11