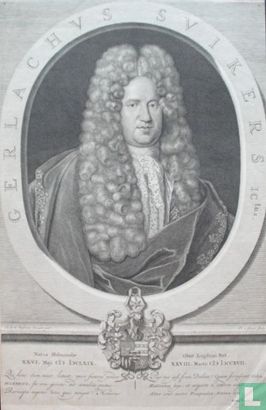 Enlarge image

Catalogue information
Title
GERLACHUS SUIKERS ICtus.
Details
Portrait bust to the right within oval of Geerlof Suikers (1669-1717). Suikers was a Dutch historian and literary expert. Below the portrait a coat of arms. The print has a Latin caption. Suikers studied in Leiden, where he obtained his doctorate in law on 11 May 1690, after which he settled as a lawyer in 's-Hertogenbosch. Suikers is best known as the author of the first comprehensive general world history, written in the Dutch language by a Dutchman: "Algemeene ecclesiastical and secular Histories des Aardkloots (...)" Copper engraving by Pieter van Gunst (c. 1659 - 1731). Published in Amsterdam by Rudolph and Gerard Wetstein, ca. 1720. Signed in print. Source: Rijksmuseum, 2015.
This text has been translated automatically from Dutch
Click here for the original text
Portretbuste naar rechts binnen ovaal van Geerlof Suikers (1669-1717). Suikers was een Nederlands historicus en letterkundige. Onder het portret een wapenschild. De prent heeft een Latijns onderschrift. Suikers studeerde te Leiden waar hij op 11 mei 1690 promoveerde hij tot doctor in de rechten, waarna hij zich als advocaat in 's-Hertogenbosch vestigde. Suikers is vooral bekend geworden als auteur van de eerste uitvoerige algemene wereldgeschiedenis, door een Nederlander in de Nederlandse taal geschreven: ,,Algemeene kerkelijke en wereldlijke Geschiedenissen des Aardkloots (...)'' Kopergravure door Pieter van Gunst (ca. 1659 - 1731). Uitgegeven te Amsterdam door Rudolph en Gerard Wetstein, ca. 1720. Gesigneerd in druk. Bron: Rijksmuseum, 2015.