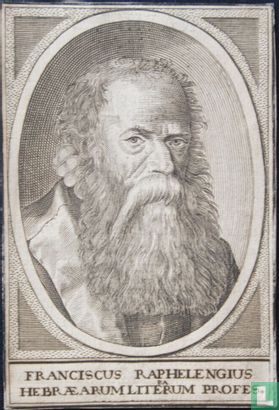 Enlarge image
FRANCISCUS RAPHELENGIUS HEBRAEARUM LITERARUM PROFES.

Catalogue information
Title
FRANCISCUS RAPHELENGIUS HEBRAEARUM LITERARUM PROFES.
Details
Portrait bust to the right within oval with rectangular frame of Franciscus Raphelengius, also known as Frans van Ravelingen (1539-1597). He was a Dutch scholar, printer and bookseller based in Leiden. He was the son-in-law of printer Christoffel Plantin. In 1585 he was put in charge of the Leiden branch of his printing house and from 1586 he was appointed as academy printer. In 1587 he also became professor of Hebrew at the University of Leiden. He contributed to the Biblia Polyglotta. His scientific printing qualities were one of the reasons that Joseph Justus Scaliger settled in Leiden in 1593. Copper engraving, maker unknown. Made around 1700. Presumably a book illustration.
This text has been translated automatically from Dutch
Click here for the original text
Portretbuste naar rechts binnen ovaal met rechthoekige omkadering van Franciscus Raphelengius, ook wel Frans van Ravelingen (1539-1597). Hij was een Nederlandse geleerde, drukker en boekverkoper, gevestigd in Leiden. Hij was de schoonzoon van drukker Christoffel Plantijn. In 1585 kreeg hij de leiding van de Leidse vestiging van diens drukkerij en vanaf 1586 was hij aangesteld als academiedrukker. In 1587 werd hij tevens hoogleraar Hebreeuws aan de universiteit van Leiden. Hij werkte mee aan de Biblia Polyglotta. Zijn wetenschappelijke drukkwaliteiten waren een van de redenen dat Joseph Justus Scaliger zich in 1593 in Leiden vestigde. Kopergravure, maker onbekend. Vervaardigd ca. 1700. Vermoedelijk een boekillustratie.