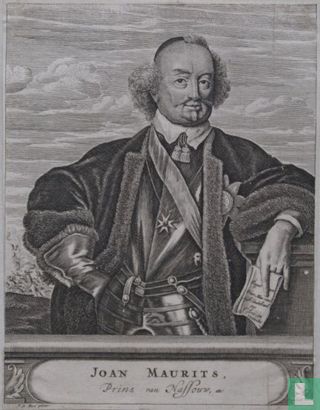 Enlarge image
JOAN MAURITS, Prins van Nassouw, etc: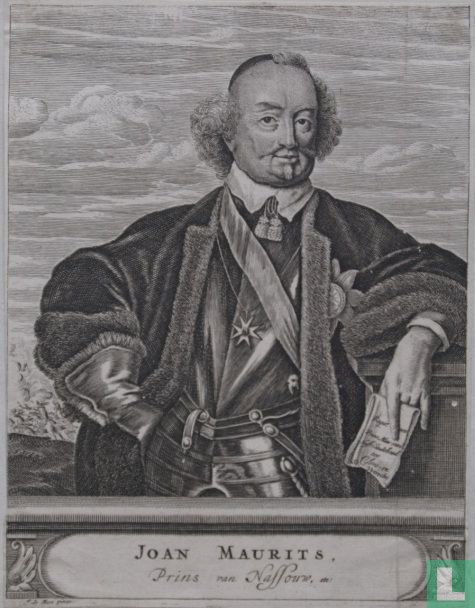 None for sale yetYou can place this item in your wish list. You will be notified immediately when it is offered for sale.

Add to my wish list
Catalogue information
Category
Prints / graphics
Title
JOAN MAURITS, Prins van Nassouw, etc:
Details
Half-length portrait of Johan Maurits, Count of Nassau-Siegen (1604-1679), nicknamed the Brazilian. He was count and prince of Nassau-Siegen in Germany; at the end of the Dutch Revolt field marshal in Dutch service; and Governor General of Dutch Brazil (1636-1644). He wears armor, covered with a cloak lined with fur and leans his left arm on a column. In his left hand he is holding a letter with his titles on it. Around his neck a chain with a Maltese cross. A battle is depicted in the background. Below his portrait is a plinth, bearing his name and title in two lines in a cartouche. Copper engraving by Christiaan Hagen (c. 1635 - after 1687), after the painting by Jan de Baen (1633-1702). Made in Amsterdam, c. 1675. Source: Rijksmuseum, 2015.
This text has been translated automatically from Dutch
Click here for the original text
Portret ten halven lijve van Johan Maurits, graaf van Nassau-Siegen (1604-1679), bijgenaamd de Braziliaan. Hij was graaf en vorst van het Duitse Nassau-Siegen; aan het eind van de Nederlandse Opstand veldmaarschalk in Nederlandse dienst; en gouverneur-generaal van Nederlands-Brazilië (1636-1644). Hij draagt een harnas, met daarover een mantel gevoerd met bont en leunt met zijn linkerarm op een zuil. In zijn linkerhand houdt hij een brief met daarop zijn titels. Om zijn hals een ketting met een Maltezer kruis. Op de achtergrond is een veldslag afgebeeld. Onder zijn portret een plint, waarop zijn naam en titel in twee regels in een cartouche. Kopergravure door Christiaan Hagen (ca. 1635 - na 1687), naar het schilderij van Jan de Baen (1633-1702). Vervaardigd te Amsterdam, ca. 1675. Bron: Rijksmuseum, 2015.
Submission date
February 24, 2015 17:21
Last updated on
February 24, 2015 17:21