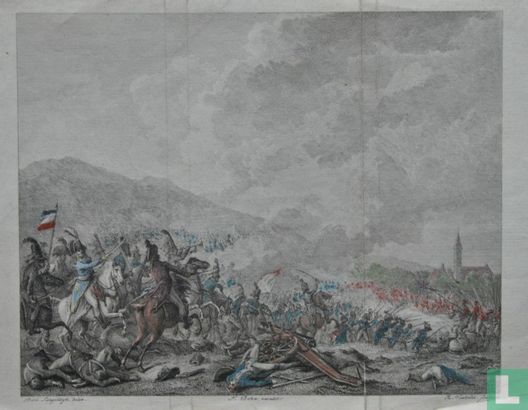 Enlarge image
Gevecht by Castricum. Op den 6. October 1799

None for sale yetYou can place this item in your wish list. You will be notified immediately when it is offered for sale.

Add to my wish list
Catalogue information
Category
Prints / graphics
Title
Gevecht by Castricum. Op den 6. October 1799
Details
Etching and engraving by Reinier Vinkeles (1741-1816), after a drawing by Dirk Langendijk (1748-1805), published in Haarlem by François Bohn. Depiction of the fighting between the Franco-Batavian army and the British-Russian invasion force on October 6, 1799. In the foreground, the Franco-Batavian troops under General Brune are advancing towards Castricum. In the distance the church tower of Castricum. The engraving served as an illustration in: L.C. Spark. History of the landing of the Anglo-Russian army in North Holland; as well as war companies and political events, as there, as in Vriesland and Gelderland, in the year 1799. Haarlem: François Bohn, 2 parts, 1801-1802. Source: Rijksmuseum, 2014.
This text has been translated automatically from Dutch
Click here for the original text
Ets en gravure door Reinier Vinkeles (1741-1816), naar een tekening van Dirk Langendijk (1748-1805), uitgegeven te Haarlem door François Bohn. Voorstelling van de gevechten tussen het Frans-Bataafse leger en de Brits-Russische invasiemacht op 6 oktober 1799. Op de voorgrond rukken de Frans-Bataafse troepen onder generaal Brune op richting Castricum. In de verte de kerktoren van Castricum. De gravure diende als illustratie in: L.C. Vonk. Geschiedenis der landing van het Engelsch-Russisch leger in Noord-Holland; alsmede der krijgsbedrijven en politieke gebeurtenissen, zoo aldaar, als in Vriesland en Gelderland, in den jare 1799. Haarlem: François Bohn, 2 dln, 1801-1802. Bron: Rijksmuseum, 2014.
Submission date
August 15, 2014 18:16
Last updated on
August 18, 2014 11:36