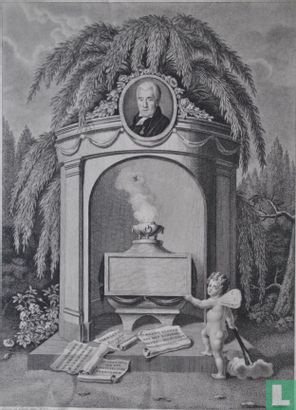 Enlarge image
Monument voor Martinus Stuart (1765-1826)

None for sale yetYou can place this item in your wish list. You will be notified immediately when it is offered for sale.

Add to my wish list
Catalogue information
Title
Monument voor Martinus Stuart (1765-1826)
Details
Copper engraving by Dirk Sluyter (1790-1852), after a drawing by Haatje Pieters Oosterhuis (1784-1854), published in The Hague by D.A.M. Sluyter & Comp., Around 1826. Mixed media (etching, stippling and engraving). Depiction of an altar with a dying lamp standing in a temple with the portrait of the preacher and historian Martinus Stuart. Behind the temple is a weeping willow, next to it a rose bush with some broken flowers. A putto with a dying torch points to the monument. On the floor are sheets of paper with the subjects on which he published. At the bottom of Stuart's name and date of death.
This text has been translated automatically from Dutch
Click here for the original text
Kopergravure door Dirk Sluyter (1790-1852), naar een tekening van Haatje Pieters Oosterhuis(1784-1854), uitgegeven te 's-Gravenhage door D.A.M. Sluyter & Comp., omstreeks 1826. Gemengde techniek (ets, stippelwerk en gravure). Voorstelling van een altaar met een uitdovende lamp staande in een tempeltje met daarop het portret van de predikant en geschiedkundige Martinus Stuart. Achter het tempeltje staat een treurwilg, ernaast een rozenstruik met enkele geknakte bloemen. Een putto met een dovende fakkel wijst naar het monument, Op de grond liggen vellen papier met daarop de onderwerpen waarover hij publiceerde. Onder aan de naam van Stuart en zijn sterfdatum.
Submission date
July 08, 2014 17:45
Last updated on
August 20, 2014 07:56