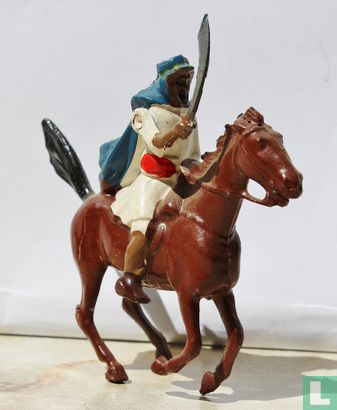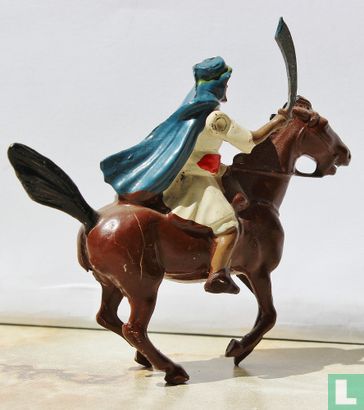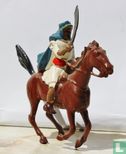 Enlarge image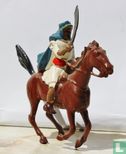 Catalogue information
Title
Arab on horse with scimitar blue cloak
Details
Set 164 usually contained 2 arabs with jezails (musket) green cape and 3 with scimitars (scimitar) 2 in red cape 1 in blue. Set 164 was released in 1911 when Italy conquered Libya from the Turkish Empire. Under the plinth a date to 1925. After 1925 to 1941 undated. In production again in 1946 until 1966 (last as set 9291) One of the longest produced sets, these Arabs on horseback are also found in many combination sets.
This text has been translated automatically from Dutch
Click here for the original text
Set 164 bevatte meestal 2 arabieren met jezails (musket) groene cape en 3 met scimitars (kromzwaard) 2 in rode cape 1 in blauw. Set 164 werd uitgebracht in 1911 toen Italië, Libië van het Turkse rijk veroverde. Onder de sokkel een datum tot 1925. Na 1925 tot 1941 ongedateerd. In 1946 opnieuw in productie tot 1966 (laatst nog als set 9291) Een van de langst geproduceerde sets, deze Arabieren te paard komen ook in veel combinatie sets voor.