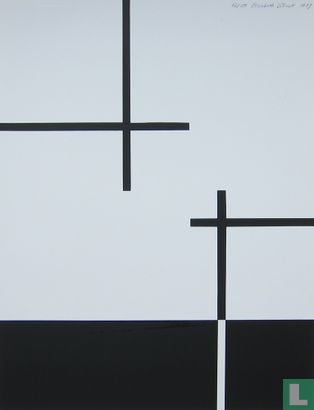 Enlarge image
Elizabeth Willmott- Collage in black and white

Catalogue information
Title
Elizabeth Willmott- Collage in black and white
Details
Constructivist collage in Black & White by Elizabeth Willmott, who created a contrast in the composition by shifting 2 prints. Dimensions 32 x 25 cm. Edition is 150 copies. Signed in pencil in the top right and numbered by Willmott.
This text has been translated automatically from Dutch
Click here for the original text
Constructivistische collage in Zwart /wit door Elizabeth Willmott, die door het verschuiven van 2 prints een tegenstelling in de compositie heeft gecreerd. Afmetingen 32 x 25 cm. Oplage is 150 ex. rechtsboven in potlood gesigneerd en genummerd door Willmott.