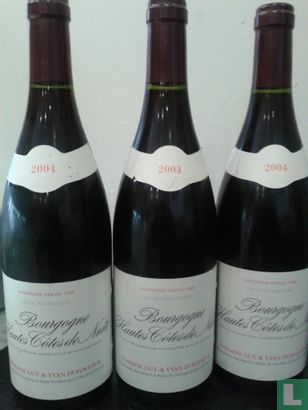 Enlarge image
Bourgogne -Hautes Cotes de Nuits 2004

Catalogue information
Title
Bourgogne -Hautes Cotes de Nuits 2004
Details
Domain name introduction: Yvan, Guy Dufouleur's eldest son, started working on the family estate in 1984. He vinified under his father's supervision until 1988 and since 1989, he was alone working wine, driving the field and handled in parallel with his own domain , the domain Yvan Dufouleur. Today these two areas are reunited to form the Domaine Guy & Yvan Dufouleur. Yvan always wanted to keep his father's traditional vinification methods. Harvest and vinification: A quarter of the vines are planted in low vines, the rest are wide and tall vines which allow easier mechanization of vineyard management. The treatment plant vines are 100% organic, except for weeding (minimal use of herbicides in the vines with Basta is a desiccant deemed to be the least polluting currently on the market). Vinification is traditional (maceration 21 days, 2 tattoos daily, yeast addition, enzyme treatment). Cold maceration.
This text has been translated automatically from Dutch
Click here for the original text
Introductie domeinnaam: Yvan, oudste zoon van Guy Dufouleur, begon te werken op het familielandgoed in 1984. Hij gevinifieerd onder supervisie van zijn vader tot 1988 en sinds 1989, werd hij alleen werkt wijn, rijden het veld en behandeld in parallel met zijn eigen domein, het domein Yvan Dufouleur. Vandaag de dag worden deze twee gebieden herenigd en vormen het Domaine Guy & Yvan Dufouleur. Yvan wilde altijd al de traditionele vinificatie methoden van zijn vader te houden. Oogst en vinificatie: Een kwart van de wijnstokken zijn geplant in lage wijnstokken, de rest is breed en hoog wijnstokken die gemakkelijker mechanisatie van de wijngaard beheer mogelijk. De zuiveringsinstallatie wijnstokken zijn 100% biologisch, behalve voor het wieden (minimaal gebruik van herbiciden in de wijnstokken met Basta is een droogmiddel geacht de minst vervuilende momenteel op de markt zijn). De vinificatie is traditioneel (maceratie 21 dagen, dagelijks 2 pigeages, het toevoegen van gist, enzymbehandeling). Koude maceratie.