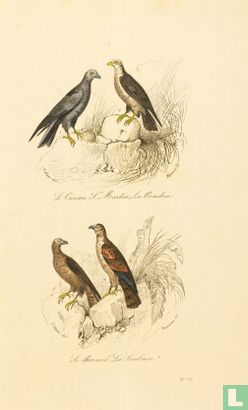 Enlarge image
Gravure van Buffon L'Oiseau St Martin, La Bondrie, Le Buzard, La Soubuse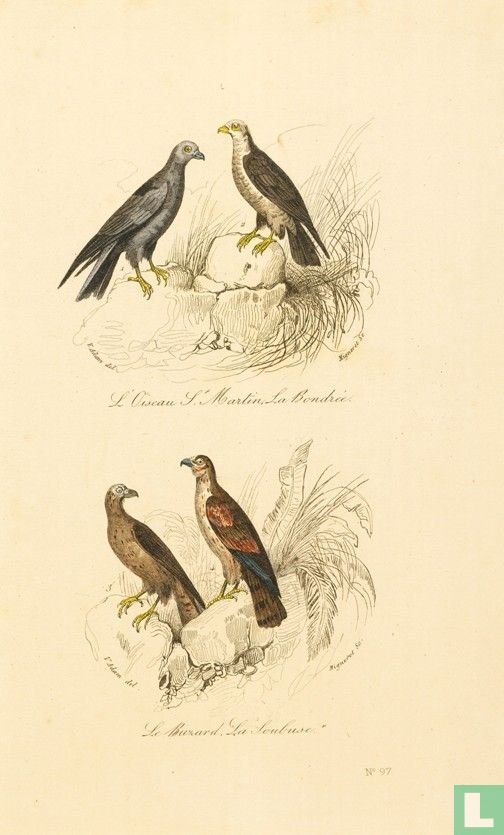 Catalogue information
Title
Gravure van Buffon L'Oiseau St Martin, La Bondrie, Le Buzard, La Soubuse
Details
From work by Buffon: Histoire naturelle, générale et particulière. Georges-Louis Leclerc, Count de Buffon (Montbard, September 7, 1707 - Paris, April 16, 1788). He was a French biologist and head of the royal gardens of the French King Louis XV. He was a member of the Académie des Sciences and the Académie Française. Buffon was born in Montbard in Burgundy, the son of Benjamin François Leclerc and Anne-Christine Marlin. Buffon attended a Jesuit school in Dijon and from 1728 studied medicine, astronomy and botany at the University of Angers. After a duel in 1730 in which he killed an Englishman, he was forced to leave France temporarily. After his return, he was appointed director of the Royal Botanic Garden in 1739, where he managed the royal museums, gardens and menageries. The beginning of his life's work. In 1733 Buffon was made a member of the Académie des Sciences and in 1753 a member of the Académie Française. The first volume of Histoire Naturelle was published in 1749. In the forty years that followed, 43 more volumes would follow. Buffon treated natural history (formerly used as a collective term for zoology, biology, geology, botany, anthropology and cosmology) in a modern scientific way and dealt with the religious influence within it. Buffon can be considered one of the founders of biology and geology. It was clear to Buffon, who was interested in geology, that the Earth was much older than the 6,000 years taught by the Church. Buffon's ideology on the change that animals undergo under the pressure of circumstances (evolution) was a tentative precursor to that Charles Darwin, but Buffon, dependent on the king's favor, did not dare to broadly consider the consequences he had drawn from his studies circle.
This text has been translated automatically from Dutch
Click here for the original text
Uit werk van Buffon: Histoire naturelle, générale et particulière. Georges-Louis Leclerc, graaf de Buffon (Montbard, 7 september 1707 - Parijs, 16 april 1788). Hij was een Franse bioloog en hoofd van de koninklijke tuinen van de Franse koning Lodewijk XV. Hij was lid van de Académie des Sciences en van de Académie Française. Buffon werd geboren te Montbard in Bourgondië als zoon van Benjamin François Leclerc en Anne-Christine Marlin. Buffon bezocht een jezuïetenschool te Dijon en studeerde vanaf 1728 geneeskunde, astronomie en botanie aan de universiteit van Angers. Na een duel in 1730, waarbij hij een Engelsman doodde, werd hij gedwongen tijdelijk uit Frankrijk te vertrekken. Na zijn terugkeer werd hij in 1739 benoemd tot directeur van de Koninklijke Plantentuin waarbij hij de koninklijke musea, tuinen en menagerieën te beheren kreeg. Het begin van zijn levenswerk. In 1733 werd Buffon benoemd tot lid van de Académie des Sciences en in 1753 tot lid van de Académie Française. In 1749 werd het eerste deel van Histoire Naturelle gepubliceerd. Er zouden in de veertig jaar daarna nog 43 delen volgen. Buffon behandelde de natuurlijke historie (vroeger gebruikt als verzamelnaam voor zoölogie, biologie, geologie, botanie, antropologie en kosmologie) op een moderne wetenschappelijke manier en rekende af met de religieuze invloed erbinnen. Buffon kan worden beschouwd als één van de grondleggers van de biologie en de geologie. Het was de in geologie geïnteresseerde Buffon duidelijk dat de aarde veel ouder was dan de 6000 jaar die de kerk leerde. Buffons gedachtegoed over de verandering die dieren onder druk van de omstandigheden ondergaan (evolutie) was een voorzichtige voorloper van dat Charles Darwin maar de van de gunst van de koning afhankelijke Buffon heeft het niet aangedurfd om de consequenties die hij uit zijn studies had getrokken in brede kring te presenteren.