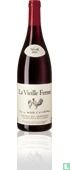 Enlarge image

Catalogue information
Details
Taste: dry Growing region: Côtes du Ventoux Grape variety: Cinsaut 15%, Grenache 50%, Carignan 15%, Syrah 20% Drinking temperature: 16 ° C. Residual sweetness: 0.20 g / l Acidity: 4.67 g / l Shelf life: until 2014 Goes well with: pasta with dark sauces, game A fantastic wine with beautiful, ripe fruit. It is read on the southern slopes of Mont Ventoux and lives from the Mediterranean climate and the limestone of the mountain foothills. A more than tasty, solid red, which has been partially matured in large wooden barrels and is round and pleasantly presented. Perfect for dinner!
This text has been translated automatically from German
Click here for the original text
Geschmack: trocken Anbauregion: Côtes du Ventoux Rebsorte: Cinsaut 15%, Grenache 50%, Carignan 15%, Syrah 20% Trinktemperatur: 16 ° C. Restsüße: 0.20 g/l Säuregehalt: 4.67 g/l Haltbarkeit: bis 2014 Harmoniert mit: Pasta mit dunklen Soßen, Wild Ein phantastischer Wein mit schöner, reifer Frucht. Er wird an den südlichen Hängen des Mont Ventoux gelesen und lebt vom mediterranen Klima und dem Kalkgestein der Bergausläufer. Ein mehr als wohlschmeckender, solider Roter, der anteilig in großen Holzfässern ausgebaut wurde und sich rund und angenehm präsentiert. Perfekt zum Abendessen!