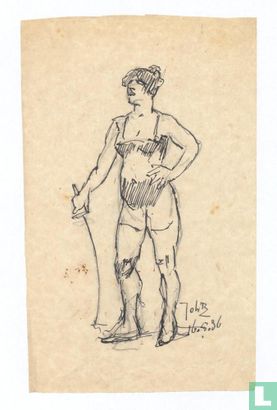 Enlarge image

Catalogue information
Title
Design sketch political cartoon
Details
Original inked sketch by Johan Braakensiek (see Google) Braakensiek became widely known for his numerous political prints, which he drew from 1887 to 1931 for De Amsterdammer, which in 1925 became De Groene Amsterdammer. He was also the original illustrator of the children's books 'Dik Trom' Braakensiek is the grandfather of Jan van Oort, who would become known as Jean Dulieu with his comics, children's books and puppet films about Paulus the Boskabouter.
This text has been translated automatically from Dutch
Click here for the original text
Originele geïnkte schets van Johan Braakensiek ( zie Google) Braakensiek verwierf grote bekendheid door zijn talrijke politieke prenten, die hij van 1887 tot 1931 tekende voor De Amsterdammer, die in 1925 De Groene Amsterdammer ging heten. Ook was hij de originele illustrator van de kinderboeken 'Dik Trom' Braakensiek is de grootvader van Jan van Oort, die als Jean Dulieu bekend zou worden met zijn strips, kinderboeken en poppenfilms over Paulus de Boskabouter..