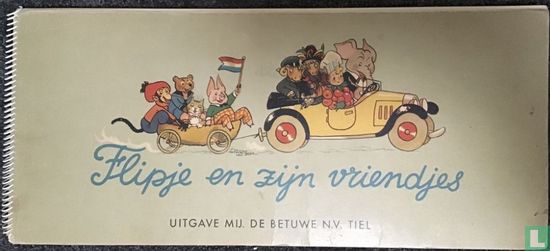 Enlarge image






Catalogue information
Category
Collection albums
Title
Flipje en zijn vriendjes
Details
A complete album contains: illustrated title page, 9 pages of Flipje Tiel illustrated story, 1 page illustrated "strip braid" manual and 32 insertion pages. No endpapers. New spelling. Compared to the previous orange album, all illustrations are different and the introduction story rewritten. Film strips with 10 images each. The film strips were available by sending Flipje credit points. The one meter long strips could be cut in the middle to fold them into the appropriate albums. The albums that were released in 1939 were colored orange, the albums from 1948 were colored gray. The albums have room for 4 series of 8 strips.
This text has been translated automatically from Dutch
Click here for the original text
Een compleet album bevat: geillustreerd titelblad, 9 blz Flipje Tiel geillustreerd verhaal , 1 bladzijde geillustreerde "strook vlecht" handleiding en 32 invoegbladzijden. Geen schutbladen. Nieuwe spelling. Ten opzichte van het eerdere oranje album zijn alle illustraties anders en het introductieverhaal herschreven. Filmstroken met 10 plaatjes elk De filmstroken waren verkrijgbaar door het opsturen van Flipje waardepunten. De stroken van een meter lang konden in het midden doorgeknipt worden om ze in de daarvoor bestemde albums te vouwen. De albums die in 1939 uitkwamen waren oranje gekleurd, de albums vanaf 1948 grijs gekleurd. In de albums is plaats voor 4 series van 8 stroken.
Submission date
October 03, 2010 17:20
Last updated on
April 25, 2021 23:03
References to other categories
Comic Books / Series / protagonists