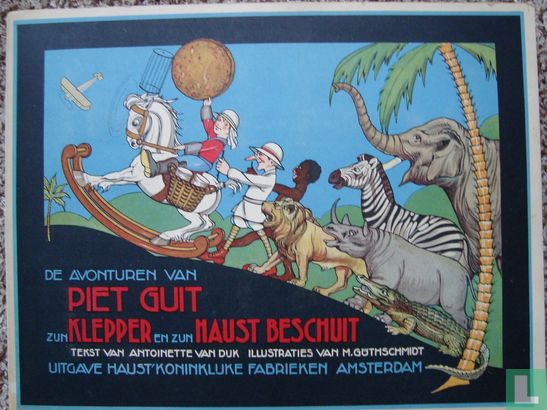 Enlarge image
De avonturen van Piet Guit zijn Klepper en zijn Haust beschuit






Reasonable but empty or incomplete
Catalogue information
Category
Collection albums
Title
De avonturen van Piet Guit zijn Klepper en zijn Haust beschuit
Number of items in album
102
Details
With 100 small pictures and two large ones. In the 1920s, the royal Haust released 18 series of 10 pictures, each of which formed a story about Haust rusk. Three albums of these series (A - R) have been released: M, P and R in which the pictures could be pasted. These series contain 40, 30 and 100 pictures respectively.
This text has been translated automatically from Dutch
Click here for the original text
Met 100 kleine plaatjes en twee grote. In de jaren 20 bracht de koninklijke Haust een 18-tal series uit van 10 plaatjes die telkens een verhaal vormden over Haust beschuit. Van deze series ( A - R ) zijn een drietal albums uitgegeven: M, P en R waarin de plaatjes ingeplakt konden worden. Deze series bevatten respectievelijk 40, 30 en 100 plaatjes.
Submission date
November 15, 2010 20:01
Last updated on
December 26, 2021 12:12
Proceeds from LastDodo shops
resenable condition, complete.
Last transaction date June 25, 2014
Details of proceeds
References to other categories
Album pictures / Albums / series