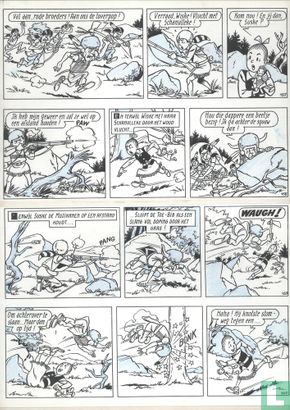 Enlarge image
Suske en Wiske: Twee toffe totems (p.40)

Catalogue information
Title
Suske en Wiske: Twee toffe totems (p.40)
Details
First newspaper publication of this 78th story: February 20, 1970 - July 3, 1970. So the page was probably signed in 1969. Inked by Paul Geerts.
This text has been translated automatically from Dutch
Click here for the original text
Eerste krantenpublicatie van dit 78e verhaal: 20 februari 1970 - 3 juli 1970. De pagina is dus waarschijnlijk in 1969 getekend. Geïnkt door Paul Geerts.
References to other categories
Comic Books / Series / protagonists